Every garden is different, every customer is different. We will draw up your order as you want it, you don't just choose the size of shed - you choose the style, where you want your windows and door, you decide (from a choice of over 30 colours) the stain colour, the shingle colour and we will even customise your shed depending on your requirements.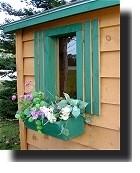 How long does it take to install?
Our sheds take an average of 3 hours to install. This includes the construction and the shingling.

How should the site be prepared?
We can place the shed on a variety of bases (concrete, gravel, dirt or grass). If a concrete base is prepared, it must be square and level. If however the site is prepared with gravel or is just an area of grass, this spot should be fairly level. We use patio stones to do final leveling, but it is in the best interest of the customer to level the spot as close as possible.

How do you support the floor of the shed?
The floor is manufactured with treated floor joists at 2x4 centers. We place patio stones under 3 points of each joist. For example, an 8X8 shed on a level spot would require 15 pieces of stone. This provides maximum stability for the garden shed.

What is the shed constructed of?
All the board lumber in the garden shed is eastern white pine. This includes the floor, walls and roof. Pine is very durable and weathers very well. We do not use chipboard, pressboard or plywood.

What do you treat the exterior with?
Some customers prefer to let the pine weather naturally, however the majority of people purchase the shed stained. We stain the exterior to complement the beauty of the shed and protect it from discoloring.

Can you install the sheds anywhere?
We have a lot of versatility with our construction method. We can easily get into most backyards or tight areas. A 3ft gate provides all the space we need to get to a site. We do however have to watch for overhead obstructions and obstacles on the ground.